I recently wrote a piece for Juno Plus on the amazing Patrick Cowley LP that came out in October.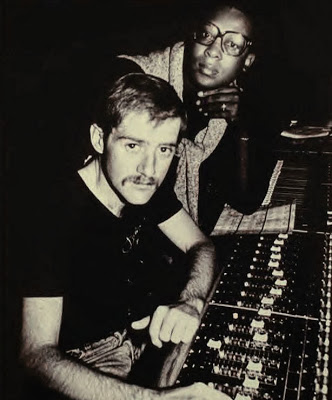 Patrick Cowley's School Daze is brought to us by the joint efforts of San Francisco label Dark Entries and the city's long running club night Honey Soundsystem, and draws from an enlightening cache of compositions that the producer licensed to gay porn films. Cowley is most known as a pioneering disco and Hi-NRG producer, with hits such as "Menergy" and "Megatron Man," along with collaborations like "Do Ya Wanna Funk" and "You Make Me Feel (Mighty Real)" with disco icon Sylvester. This release focuses on the weirder, more experimental side of Cowley's work that is perhaps over-shadowed by his undoubted disco legacy. These eleven tracks were taken from the scores to Muscle Up and School Daze, from the Fox Studio archives; porn film soundtracks that that expose a shadier side of San Francisco in the 70s and early 80s.
Although Cowley is known for his disco productions, he showed an interest in electronic experimentation from a young age, studying music at the City College of San Francisco where he developed his synthesizer skills, and founded the Electronic Music Lab. It is the early music from Cowley's college days that make up this release, which was then adjusted by the Fox Studio owner John Coletti, using a variable speed oscillator to synchronize the music to the scenes of the films.
"Zygote" starts with full force, in the same spirit as some of Cowley's famous Hi-NRG disco workouts, but instead of setting the pace for the album, the track stands alone and is followed by a number of incredibly bizarre and far-out recordings. From the onset, synths are rich and earthy in quality, with bright cosmic tones that flicker above bellowing bass. "Nightcrawler" is as dark and mischievous as its name suggests, as tiptoeing synths meet oddball electronics.
"Seven Sacred Pools" is a stunning piece of music; patterns of repetition are topped with rugged bass, unexpectedly falling into a Tangerine Dream-like trance. "Primordial Landscape" brings forth synth reflections of murky trip-like quality, with sounds that are so strange, it feels like they must have been drug induced, whereas "Tides of Man" closes the album with carefully strung arpeggios that propel the track forth with rigorous strength…
Read the rest of the review HERE