Richard Pinhas, East/West (1980)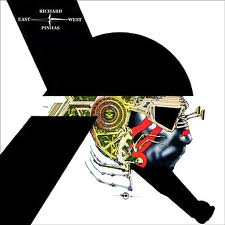 I just picked up this LP and I'm really enjoying it! This album was Richard Pinhas' fourth solo effort, released in 1980 on Pulse Records and later re-released on Cuneiform.
Most of the tracks from this album are named after various cities (London, New York, Kyoto…),  and Richard Pinhas wanted to capture the spirit of these places through his music.  The album vacillates between slower, more ambient work to heavier tracks more reminiscent of the music he made with the band Heldon.  This album might not be the best introduction to Pinhas' work, but definitely worth a good old listen nonetheless! 
 "Richard Pinhas,…the astonishingly talented French pioneer…it's no exaggeration to state he's managed to cross the philosophies of J.G Ballard and Jean Giraud with the guitar sound of Robert Fripp, and thereby arrived at a cosmos-shattering glimps into the infinite."  – The Sound Projector