Rejections and Ectopia will be playing live sets at Catch in November, as part of a series of experimental electronic gigs linked to the Alien Jams radio show.
There will also be great Djs for the evening, with Tony Poland of Juno Plus taking over the decks, as well as Laetitia Deering of Phonica who will be dusting off some of her favourite records!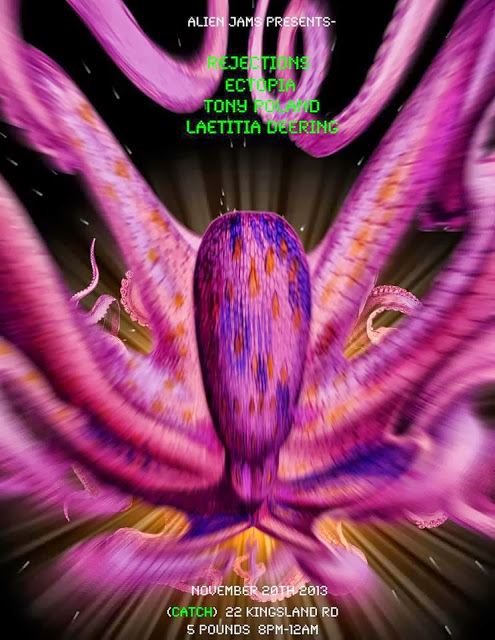 Michael Hann aka Rejections, is a musician based out of Teesside and also runs the label Reject and Fade. Michael's work deals with scuzzed-up electronics and harsh industrial textures, with releases on his own label as well as Opal Tapes and Jehu and Chinaman.
"droning rhythm emerging out of cyclical, dissipating metallic synths and pulsating noise waves. Stabs of distorted sonar-like sound fire across the stereo range like the final distress calls from a submarine teetering on the edge of some gargantuan abyss, before finally disappearing into the black with a steely, echoing scream."- Laurie Tuffrey (the Quietus)
https://soundcloud.com/rejectionsfade
ECTOPIA-
Cello, voice and electronics collide in a whirlwind of improvised experimentation from this London three-piece. Vicky Steiri, Adam Christensen and Jack Brennan create shadowy sonic offerings, where dark velvety cello soon turns into fierce turbulent outbursts, often driven by electronics. In the past they have performed at the New Museum of Contemporary Art 'The Lion Tamer' (music for Spartacus Chetwynd's performance), as well as a live soundtrack for Jack Smith's Normal Love at the ICA (London) and a live composition in Hotel Garderobe in response to Carl Theodor Dreyer's 1928 Passion of Joan of Arc.
http://ectopian.blogspot.co.uk/

FACEBOOK INVITE- HERE