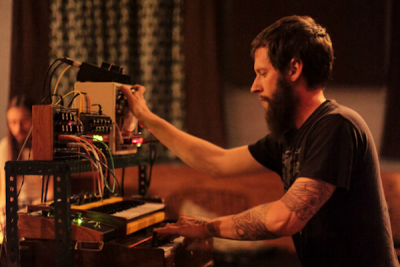 I recently reviewed Jaime Fennelly's Mind Over Mirrors album for Juno Plus…
It seems somewhat fitting that Jaime Fennelly created much of his work as Mind Over Mirrors on a remote Washington island in the Salish Sea. When The Rest Are Up At Four is the fourth Mind Over Mirrors album in three years from Fennelly, his first for the Chicago label Immune, and feels strangely distant, while also rooted in the organic sounds of surrounding nature. As a founding member of Peeesseye, which formed in 2002, Fennelly lived in Bushwick, New York until he decided to relocate to island life in 2007. The move was a shift that coincided with his development as a solo artist, work that was created under more isolated conditions.
The distinct aesthetic of the Mind Over Mirrors project is especially apparent through the artwork that Fennelly and his partner Serena Lander have made for all the releases, often in the way of leafy green album covers, glorifying the wild foliage of the Pacific Northwest. The Mind Over Mirrors releases have all featured the Indian pedal harmonium, playing a crucial role in the overall sound. This latest album is no exception, where oscillators, tape delays and synths are combined with these rich harmonium overtones. But instead of serving as a focal point of the album (as can be seen in past releases) it glues the tracks together without taking centre stage.
When The Rest Are Up At Four starts with the sensory overload of blissful electronics that is "Storing The Winter" which remains the standout track of the album. Almost like a cross between 70s German band Harmonia and the pure ecstatic frequencies of Iasos, this track started as a collaboration with Miguel Gutierrez, a choreographer Fennelly has worked and performed with on many occasions. Sweeping harmonies unravel with ease throughout the track, rippling over the steady backbone of the harmonium…
Read the rest of the article 
HERE