Upcoming! A night of experimental electronics to celebrate the Album Launch of oMMM's Parallel Lines Converge, a vinyl release due out in May on the new Alien Jams label. Cherrystones will be joining the festivities with a special live set, while Debonair (NTS) and Alien Jams djs will be playing their favourite records.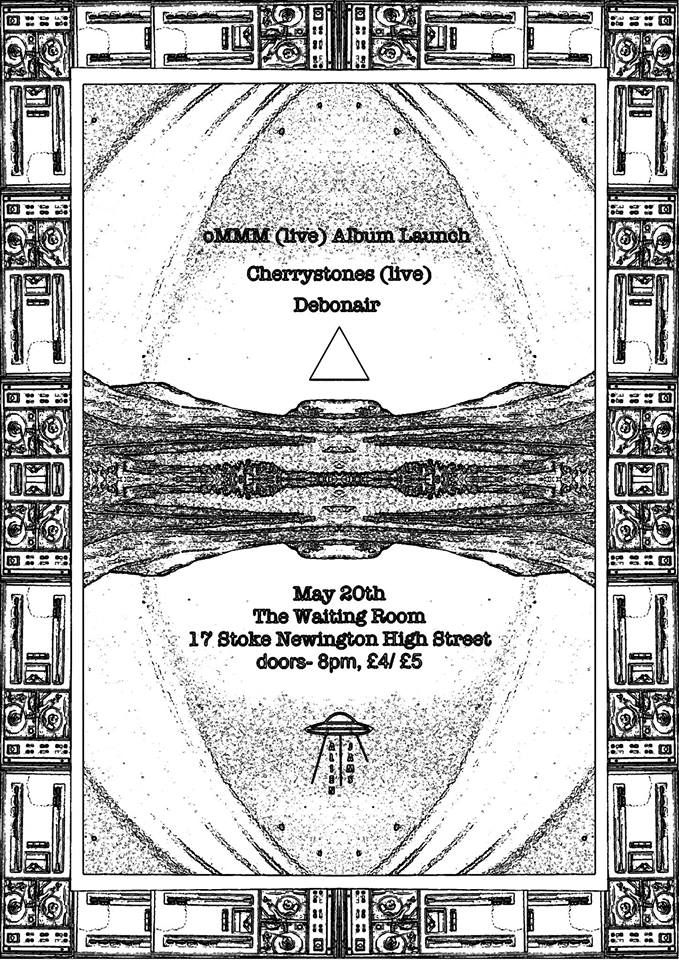 oMMM-
Edmund Davie's oMMM project ventures yet deeper into the murky realms of cassette experimentation, with his latest release, Parallel Lines Converge. Cassette collage and drum machine rhythms are channeled through a trusty four track, sounds that seem to belong to some distant cosmological order. Noise synths and casiotone are drenched in tape hiss, rising to intoxicating proportions, adding yet another hazy veil to oMMM's work. With as much attention paid to eerily buzzing soundscapes as overloaded drum sequences, Parallel Lines Converge navigates a vast expanse of sonic no-man's land, all the while teetering on the brink of madness.
http://alienjams.bandcamp.com/
Cherrystones-
Where to start? Cherrystones has built a reputation for his DJing abilities along with expert music knowledge and production intuition, and he has also released his own music on labels like Brutal Music and (as Godsy) on Whatever We Want. Expect a set tailor made for the night, perhaps less drum- led than some of his previous work, though still rhythmically inclined. The set will partly rely on improvisation, an audiovisual performance embracing fluid textures that overlap correlated colours and washes.
https://soundcloud.com/cherrystones
DEBONAIR (NTS/ Linear Space)-
"Debi Ghose connects the musical dots, with a particular fetish for post-punk, techno and vintage electronica." Her excellent radio show has become a staple on NTS, with consistent selections, and past guest mixes from Astro.Dynamics, Scott Wilson and Night School Records. Among her various dj appearances, Debonair also takes part in a monthly Linear Space residency alongside Alien Jams.
https://www.facebook.com/RadioDebonair
ALIEN JAMS- https://soundcloud.com/alien-jams
£4 advance /£5 door