Here is a review I did for Juno Plus a few months ago on Hard Corp's Rarities release.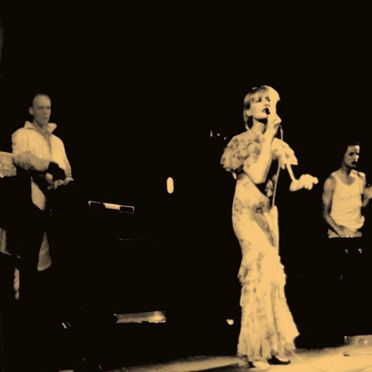 There seems to be no end to the flood of synth reissues over the past few years, labels like Dark Entries, Medical and Mannequin are among current record labels digging deep, committed to unearthing forgotten rarities from often unsuspecting musicians. At the very centre of this movement is digger extraordinaire, Veronica Vasicka, who coined the Minimal Wave genre back in 2005. After releasing Clean Tables Have to Be Burnt by Hard Corps in 2012, Vasicka brings forth the Rarities LP, a collection of out-takes and demos issued in dedication to frontwoman Regine Fetet who passed away in 2003.
This Brixton-based band developed a devoted cult following throughout the mid 80s, as well as getting a reputation for their killer live performances. Things started looking up when Hard Corps were featured on John Peel's radio show, and subsequently signed with Polydor in 1985, getting a chance to work with renowned producers like Martin Rushent and Daniel Miller, as well as touring with Depeche Mode and The Cure. But this promising period only resulted in one single, the undoubtedly brilliant Je Suis Passée. Although this track was a hit throughout underground dancefloors, the band's work failed to break through to the general public, and their Polydor time proved to be less fruitful than many had expected.
Regine Fetet's vocals are distinctively haunting throughout the release, cutting through harsh industrial textures. Regine came from a background of exotic dance, which perhaps influenced her evocative live performances; for instance, it was not uncommon for her to strip down during the gigs. Hailing from France, she was not a trained vocalist, and initially struggled with timing and enunciation, but this background perhaps made her vocal deliverance all the more interesting.
The ghostly quality of "Bravo" stands out in this LP of unreleased cuts, driven by a punchy bassline that feels razor sharp against warm ethereal synths, drenched in reverb. Following suit, the rigid drum sequences of "Killing Fields" are treated with effects that brighten harsh mechanics behind the track, accentuating warm, lush analog electronics found throughout the release. There's an undeniably groovy bassline on "Desire" that is topped by silky vocals, with gleaming synths that flow throughout track.
The Hard Corps canon is rougher than some of their glossier synth-pop counterparts of the time, with music that embraced a gritty lo-fi approach through their carefully constructed tracks. Even so, there is undeniably an element of warmth that ties together this LP, an organic intensity that emanates from Regine's vocals to the buzzing of analog hardware, enveloped in a dreamy haze of reverb. These tracks form an absorbing collection of out-takes and demos that emerge from obscurity after collecting dust for many years and can finally be appreciated thanks to the Minimal Wave label,.