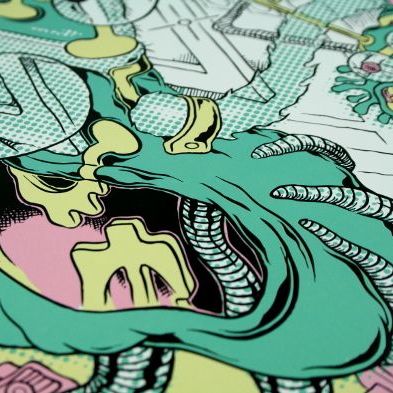 Over the past couple months, Gabriel Humberstone and I have been working on an upcoming gig at London's Cafe Oto.  It will be on May 9th, so hope you can make it!
Ekoplekz
Brood Ma
Cafe Oto
£8 adv/ £10 door
Advance tickets available here-http://www.wegottickets.com/event/268446
EKOPLEKZ-
Over the last five years and spanning thirty plus releases on labels including Punch Drunk, Editions Mego, Public Information, and most recently Planet Mu, Nick Edwards' Ekoplekz project has developed a unique sound drawing on dub, early 90s Warp, noise and early electronics. These influences are combined with a dedication to analog electronics and diy instrumentation, bringing a rawness and immediacy to his sound and performances. In the early 2000s, Edwards authored the Gutterbreakz blog, which provided a space of critical discussion central to Bristol's burgeoning dubstep and electronic scene. The website is now an archive, the last post simply declaring 'the place where shit used to happen.'
Alongside his solo work, Nick has been active in a number of collaborations including Ekoclef (with Bass Clef) and eMMplekz (with Barron Mordant). His most recent release, Unfidelity, pushes his earlier explorations into a more rhythmical and melodic territory, though retaining the damp, melancholy doom laden sound that he has become known for.
https://twitter.com/ekoplekz
www.planet.mu/discography/ZIQ338
BROOD MA-
Brood Ma is the musical alias of artist James B Stringer. Brood Ma is a fractured, cybergothic nexus of tropes from weird literature, dystopian rave and high technology, presented in longform performances and recordings that resemble crisis scenarios as much as electronic mixes. The music tends to be oppressively psychedelic, evoking fourth-world entropy, embattled tax-havens, and the aesthetics of simulated combat. His record F I S S I O N is available from Mantle records, and his forthcoming records will be released on Quantum Natives.
https://soundcloud.com/broodma
http://mantile.blogspot.co.uk/ http://quantumnatives.com/